Latest News
RUBBER STAKEHOLDER NEWS : Centre extends anti-dumping duty on bus and truck tyres from China by three months SECTIONSCentre extends anti-dumping duty on bus and truck tyres from China by three month

(Last Updated: 25 Jul 2022)
Centre extends anti-dumping duty on bus and truck tyres from China by three months
The centre has extended the anti-dumping duty on import of bus and truck tyres from China by three months. In a gazette notification, it was stated that the anti-dumping duty imposed in September 2017, for a period of five years, will now be in force till December 2022.

According to a notification by the Central Board Excise and Customs (CBEC), the anti-dumping duty on these Chinese products lies in the range of $ 245.35 - 452.33 per tonne.

It covers new or unused
pneumatic
radial tyres with or without tubes and or flap of rubber (including tubeless tyres) having normal rim diameter code above 16 inches used in buses, lorries, and trucks.

Rubber farmers hit hard by high input costs
Fear of cost of production of rubber getting higher than purchase price
46-year-old Bobby Martin, a native of Pala, closed down his business and jumped into full-fledged rubber farming about two decades ago when the latex prices were skyrocketing. But with the input costs at current highs, the nine acre plantation that he inherited hardly serves his family.
And it isn't just the material prices that are rising. The shortage of labour and the resultant increase in wages have all conspired to stock a crisis.
"From acid to coconut shells, the costs have swelled across the board. The last couple of months were particularly severe when we began rain-guarding the trees ahead of the monsoons," he said.
According to him, the price of tar bitumen, which was available at ₹1,000 last season, has increased by over over ₹400, while that of plastic surged to ₹180 from ₹120. The labour cost involved in rain- guarding too has risen by ₹5 per tree to become ₹20.
As the growers, especially those having small holdings, were struggling from unprecedented steepening of prices for all manner of inputs, the Rubber board chipped in with a subsidy scheme for rain-guarding as well as spraying materials. The scheme stipulated a subsidy on materials for rain-guarding and spraying to the tune of ₹2,000 and ₹3,000 respectively per acre, to be distributed through the Rubber Production Societies.
"While the materials for rain guarding made available through the RPS units cost ₹160 per tree, the price in the open market now stands well over ₹190. Considering that the scope of these subsidy schemes are limited to two hectares, expenses incurred in farming beyond this limit is huge'', explained Francis Kochumala, president of the Marangoli RPS in Kottayam.
If the price of rubber does not rise from the existing band of ₹165 to ₹180 per kilo, there are concerns about the cost of production outstripping the prices, he added.
Analysts, meanwhile, are warning that the farmer's won't see input prices coming down any soon. Several factors will keep prices elevated for longer, including high gas prices and reduction in supply.
As per estimates by the Rubber Board, over 90 percent of the country's rubber trees are grown in small holdings with Kerala alone accounting about ten lakh units of these. The average size of a holding in the State currently stands at 0.57 hectare.
Back on his plantation, Mr.Martin is striving hard to offset the increased costs by cutting down on the labour and spending more time on the field.
The risk is much higher at these prices disfraces cosplay baratos and I am not sure how long things will go on like this, he said.
UPASI gets new president and vice-president
M.P.Cherian, Managing Director of The Cottanad Plantations Limited and The Nilambur Rubber Company Limited Kerala, has been elected as President of UPASI for 2021-22.
He served as Chairman of the Association of Planters of Kerala (APK) in 2008-2009. He has been an Executive Committee member of UPASI since 1999 and the Executive Committee member of APK from 2000. He was Chairman of the UPASI Rubber Committee during the period 2011-12 to 2019-20.
Jeffry Rebello will be the Vice President. He was the Chairman of the Karnataka Planters Association in 2006-07 and has served on the UPASI Executive Committee and been the Coffee Committee Chairman for the last three years.
He has been actively addressing coffee issues with the Coffee Board, Central and State Governments over the years.
Tyre industry seeks removal of curb ..


CHENNAI: The tyre industry is lobbying the government to remove restrictions on import of natural rubber (NR) as a crunch in domestic supply of this key raw material is threatening to squeeze tyre production in India.

Domestic NR catered to less than half (42%) of the demand in Q1, said the Automotive Tyre Manufacturers Association (ATMA). "With economic recovery back on track and the automobile industry witnessing increased traction, there is a surge in demand for tyres but a squeeze in domestic availability of NR has become a major deterrent," said ATMA in a communication to the Rubber Board. Tyre Industry accounts for over 70% of NR consumed in the country.

"The tyre Industry has been experiencing tightness in domestic availability of NR during the ongoing fiscal. However, in the second quarter, a severe crunch is being witnessed while the NR prices are shooting up. The paucity of NR needs to be addressed at the earliest so that tyre production processes are not disrupted", said Rajiv Budhraja, director general, ATMA.
According to ATMA the Rubber Board had projected much higher production figures for the ongoing fiscal but ground realities are not in line with this guidance. "According to provisional figures, as against NR consumption of 3.01 lakh tonne, NR production stood at 1.27 lakh tonne in the Q1 of FY22," said the ATMA statement.
Going forward, NR consumption is expected to inch up further and the tyre industry expects the annual demand to cross 13 lakh tonne this fiscal. With the production of 790,000 tonne projected (in normal scenario) by Rubber Board, NR imports to the tune of at least 5 lakh tonne are a must, say tyre companies.
According to ATMA, growers have shifted to latex production at the cost of sheet rubber given the firm demand and prices for latex in the domestic market. Some ATMA members are planning to go for import as shipload to overcome the ongoing logistics/ container challenges, said the statement.
India's rubber imports likely to rise as tyre demand up but rain and COVID-19 hit local supply
The demand for natural rubber is rising in step with the recovery in sales of tyres, but local supply has not been able to keep pace with demand because heavy rainfall and COVID-19 restrictions in Kerala, the largest producer, has hit the local supply of rubber
JULY 13, 2021
/ 01:50 PM IST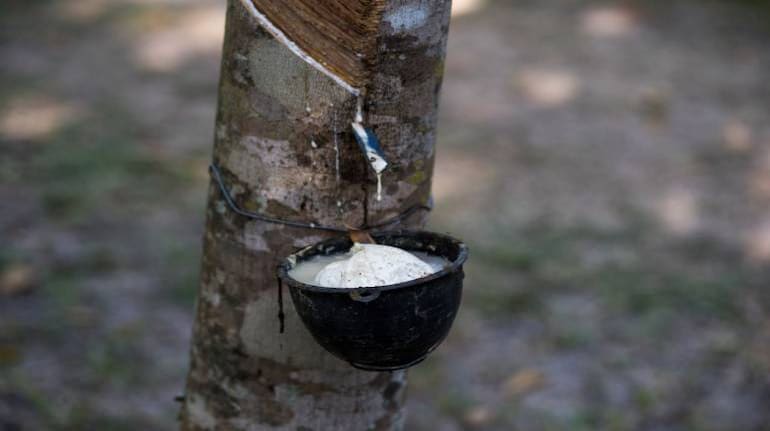 Rubber tree and bowl filled with latex (Source: ShutterStock)
India's imports of natural rubber, which fell to a six-year low in FY21, are likely to rise again as the demand for tyres is rising, while domestic supply is tight because heavy rain and COVID-19 restrictions have hit supply from Kerala, India's biggest producer of the raw material.
Tyre demand has started picking up gradually from June and is expected to rise further in the months ahead, industry executives said.
"As the demand continues to grow, the supply-side challenges continue to be a concern. The industry may resort to import of natural rubber to bridge the gap between supply and demand,'' Rajiv Budhraja, director general of Automotive Tyre Manufacturers' Association said.
Rubber imports had fallen in the last two years as domestic production improved. With the pandemic throwing the entire industry into disarray, imports in FY21 fell 10 percent to a six-year low of 4.10 lakh tonnes. In 2018-19, imports had risen to a record 5.82 lakh tonnes as local output plunged.
Tyre demand plummeted in April-May as lockdowns were imposed in many states in the wake of the second wave of COVID-19. "The OEM segment showed a massive decline with prolonged shutdown by passenger vehicle manufacturers. From the middle of June, things have started improving and the demand is showing positive traction this month," said Ashish Pandey, vice president, materials, J K Tyres, adding that the demand recovery is more in the passenger vehicle tyre sector than in commercial vehicles
The first quarter of FY22 saw weak imports of natural rubber as international prices were high and tyre demand was weak. However, in the last two months, international prices of tyre-grade RSS-3 rubber dropped 22 percent to around Rs 135 per kg, while the Indian tyre-grade rubber variety RSS-4 ruled more or less steady with a marginal drop to Rs 167 per kg.
Clearly, import looks like a better option now as tyre demand is rising. "Post COVID-19, there is more stress on localisation and there is a better understanding between buyer and seller. So, the industry may go for import only to meet the shortage regardless of whether the global pri